Swimming Pools
Nothing says luxury like unwinding in your own pool, whether cooling off on a summer's day or relaxing indoors during the winter months. Here at Chiswell, we understand that more than most, which is what makes us the leading specialists in swimming pool design, swim spas, hot tubs, endless pools and a range of accessories.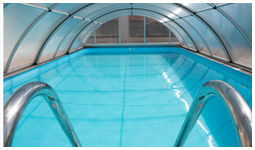 Our reputation is built on expert workmanship, and our experienced team manage your project from design through to construction and beyond, creating bespoke pools and hot tub setups that suit your exact requirements.
Protecting your outdoor pool from the elements is something we take pride in, designing and constructing full or partial enclosures that are tailored to the nature of the environment. Get in touch with Chiswell for more information - we operate throughout Hemel Hempstead, Watford, St Albans and the Northern Home Counties.